Celebrating Music Together® with VEGASMAMA Melanie Ron
I remember the first time I heard of Music Together®, I was unsure what it was (a mommy group? a toddler drum circle?) but I will never forget the impassioned mom who told me all about it. Actually, it was five separate moms&dads and it was all within five weeks.
When you're Ergobaby-ing your newborn around Whole Foods, parents tend to divulge their "greatest hits" list of when theirs were little; Music Together was apparently on many a list. I was intrigued.
Upon researching their site I took advantage of the free class offered to newcomers and, what I experienced, was one of my first real senses of a let-the-child-be-free-don't-be-worried-if-they-have-an-outburst SAFE ZONE. Kids can just move around, wherever their little bodies take them, there's never a no in Music Together but there's always a yes to their musical experience. It makes for a sense of community and validation in a world where (especially) first-time mamas need all the support & loving guidance they can receive.
Led by Melanie Ron, founder of City Lights Music Together since 2005, the 45-minute class consisted of singing. And more singing. And grooving. All of us together. Singing the most beautiful, special and stimulating songs for little ones. Since that first class we've also enjoyed classes led by Alexandra, Katie, Kate and now Marylou; they're all baby magnets and just wait until they dump out the musical instrument basket for all to choose…
. . . I wonder if the ever-popular lollipop drum is still in rotation?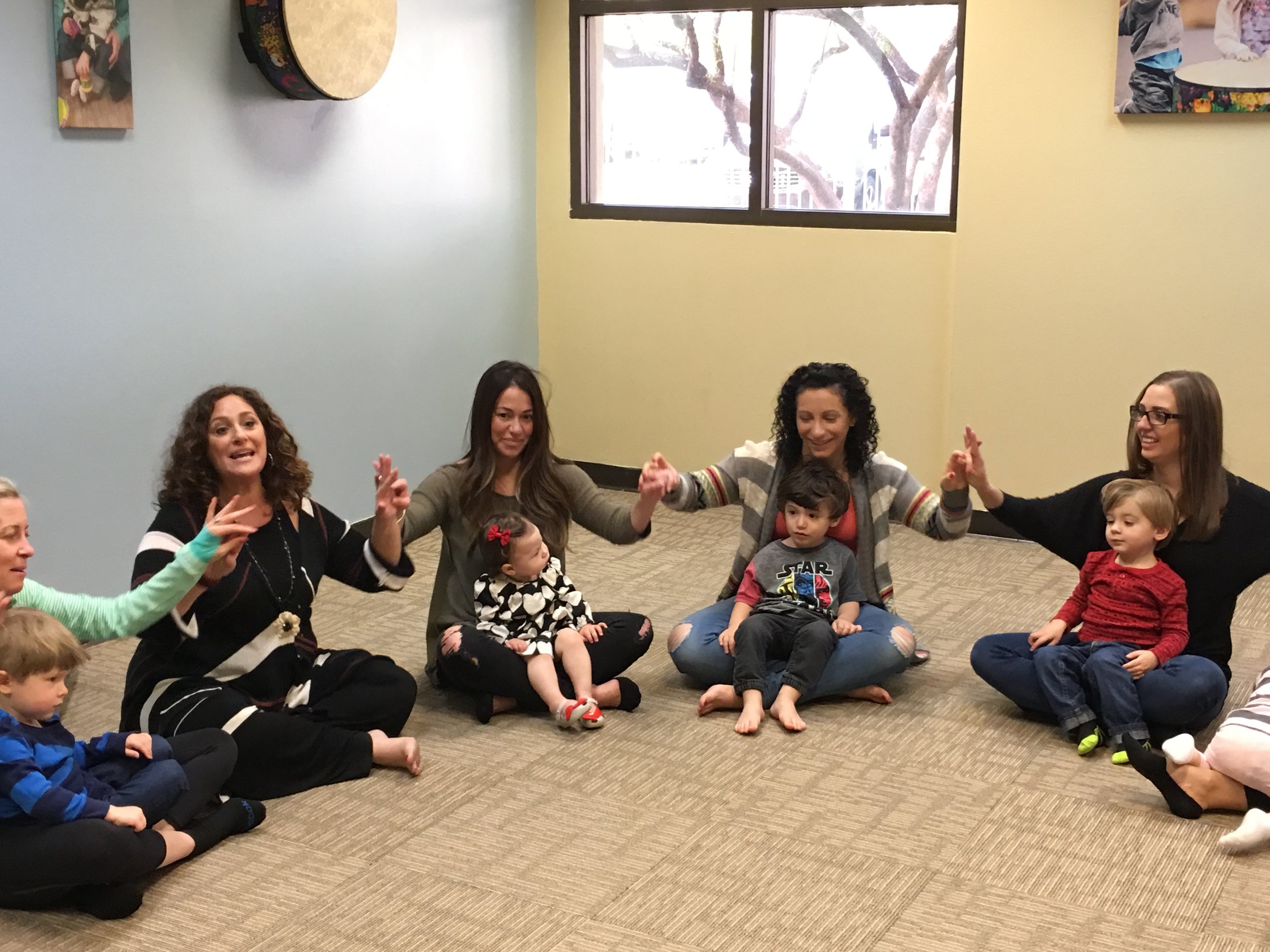 The class begins with the "Hello Song" and ends with "Goodbye, So Long, Farewell," both songs highlight each child's name (you should see how excited they get when it's almost their turn) as well as the mommies, daddies, caretakers, grandmas, grandpas, cousins…really, whomever is present in the class is given their due singing-namesake-moment.
Melanie's voice is so lovely and her lap so comfy, I don't think my Viggo missed one class without sitting in her lap…usually for the entirety of the class. He would transfer between Melanie and Robyn's lap, a VEGASMAMA I met at Music Together three years ago with whom I'm still wonderfully connected; a magnificent testimony to the sense of community that is Music Together.
This is the safe experience new mamas need not only for their & their baby's get-out-of-the-house-once-a-week-sanity but for their own social engagement; all the un-showered new mamas with drowsy eyes, messy buns and yoga pants welcome.
It's not only a once-a-week adventure, Music Together gives each family 2 music CD's with a song book and access to their online Family Music Zone. Not to worry, there is a new song collection every fall, winter & spring for three years straight so you'd survey 9 classes, or three full years, without a repeat of genre. You'll be listening to these songs in the car and at home, you'll be singing them with your child in the bath, you'll find yourself singing your favorites when your child is napping. It's quite catchy but, of course, there are scientific findings for this mental attraction.
VEGASMAMAS will interview Melanie in the upcoming weeks to explore the many important roles music plays in your baby's brain development. I would suggest putting this class at the top of your priority list. Diapers, swaddles & Music Together.
Music Together will forever be in my VEGASMAMAS Greatest Hits repertoire. Even now, you should see my children light up when I start to sing the "Hello Everybody" song…
THINGS TO KNOW:
ages 0-5 welcome (5-7 year old classes coming soon)
this is a shoes-off class
at times, you get up & down & back & forth so wear comfy, low-maintenance clothes
leave drinks/snacks in the car, they serve as a distraction for the littles
strollers can be left safely outside of the classroom door (or inside with snoozing younger sibling)
sessions are 10 weeks, 6 weeks in the summer
locations are all around Las Vegas
both parents are encouraged to participate
you're welcome to bring visitors (ie/ if grandparents are in-town), as a courtesy email beforehand
for the mamas beyond VEGASMAMAS, Music Together is international; find your class
sign up early, they fill up!
Special shout-out to Melanie and her lovely Spring 2017 Music Together class, you guys were fantastic to photograph and I enjoyed singing all my old favorites with you! Much gratitude. Please comment if you're so inclined!
All words & photos copyright VEGASMAMAS, 2017 (unless otherwise noted). All rights reserved. besos.