A Springs Preserve Adventure with VEGASBABIES Violet & Maximus!
Come, where the butterflies roam...A Preserved Adventure with Violet & Maximus!
The first time we visited The Springs Preserve (TSP) was five years ago, our six-year old was ten-months and we were flabbergasted where to begin. Imagine the jackpot of finding the inspired & true ecological beauty of Las Vegas; your world is yours to explore at The Springs Preserve and, in true Vegas fashion, it's right across the street from an urbanized mall! There's so much to do and the premises is curated like a Labyrinth Master's seasonally-aware-dreamscape-in-180-acres-of-Mother-Nature's-cut-out-desert backyard . . .
. . . we enjoyed getting LOST in her elements.
Origen Museum
We always start here. It's a natural pathway, closest to the entrance and rarely crowded. The Origen Museum's rotating shows are always energized and will showcase Astronaut, Your Journey Begins on Earth beginning June 12. Clint Carvahlo's (free) parrot performance will rectify your belief that birds-in-flight will fly away from their master when given their freedom; you'll fall in love with Parrot Whisperer Carvahlo, his birds & his empathetic outreach. TSP always hosts a daily feature film and fine art show as well.
My favorite exhibit will be found beyond the nondescript double doors but the power within is mind-blowing: "Flash Flood" features the reenactment of a desert flood and showcases the extremely dangerous potential of a whole lotta rain in the desert (5,000 gallons of recycled water rushing under your feet) . I think my boys finally saw the sprayed-fun after years of educational fright. A good learning lesson indeed! I know (hope) my boys will never try to cross a flooded thoroughfare or paseo thanks to this kinetically splashing exhibition. The Springs Preserve is designed to inspire, teach & evoke our local's pride, whether you're a born&bread Las Vegan or are raising native sons&daughters or you are on holiday,
The Springs Preserve will have you thanking the desert for all its elusive goodness.
NV Energy Foundation Sustainable Gallery
Or, as we call it, the Recycle Exhibit with the HUGE TRASH TRUCK! I don't think any family has spent as much time in this exhibit that ours. With two boys absolutely infatuated with cranes & bulldozers & excavators & tractors & trailers…there was a time we visited TSP weekly to view their real-life recycle truck (complete with a video component inside about recycling) and an Airstream trailer. Kids love the act of recycling oranges or, as they call it, the grocery store wheel.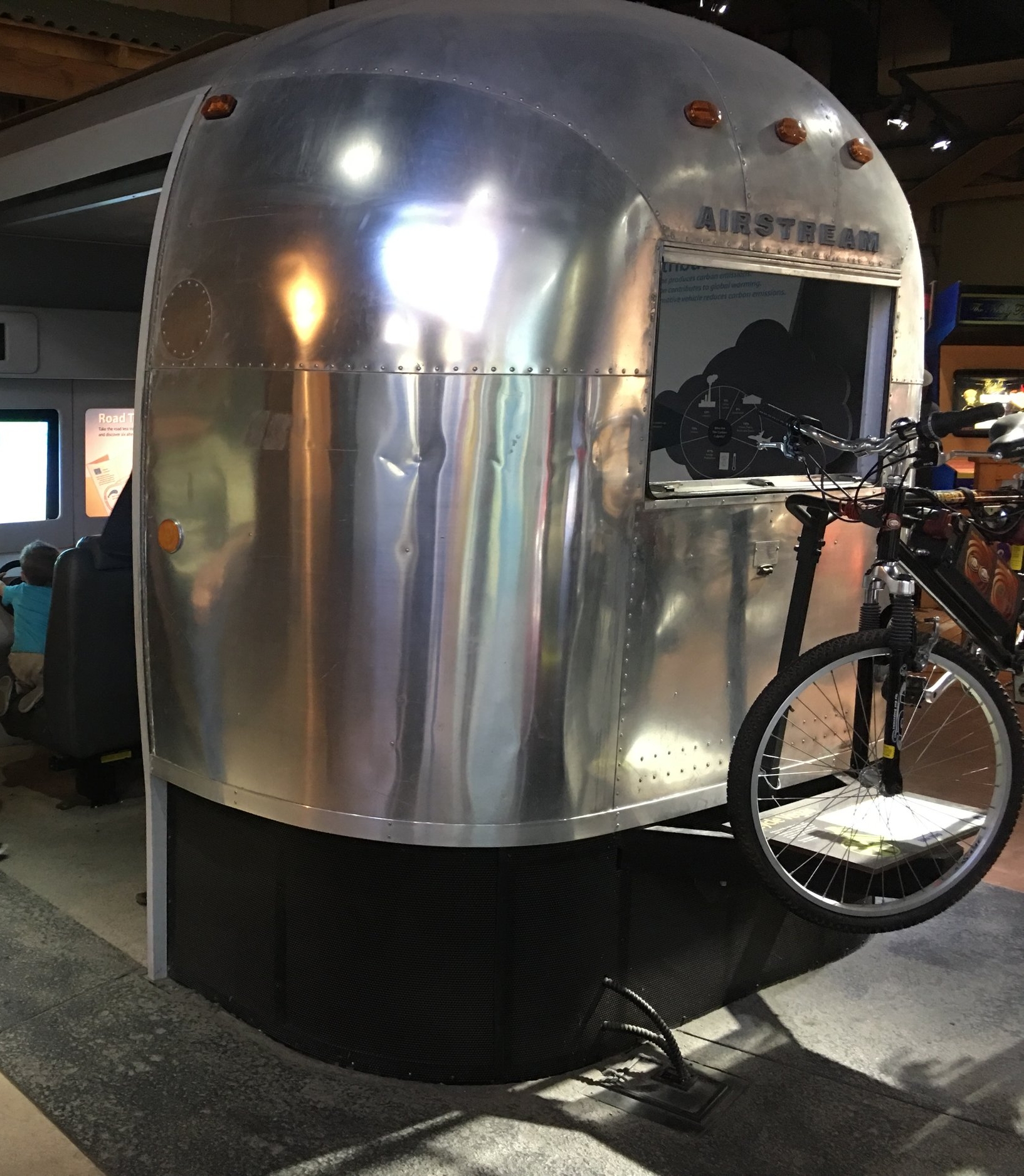 DIVINE Café
When it's hot out, the café is cool. When you're hungry, the food satisfies. When you need a recharge, consider this to be your charging station; I consider this to be my well-earned glass of wine. I let the kids dictate when we eat, but we always eat at Divine Café. A reasonably priced gastronomic adventure, the kiddos love their 6-pack muffin tin presentation and I love their salads with generous portions of avocado and green leafed satisfaction, the acoustics are loud so you never need to shush the little ones and the deck features breathtaking views of TSP. I'll stay for a second glass of vino and kids will have dessert. Aaaah. Relaxation.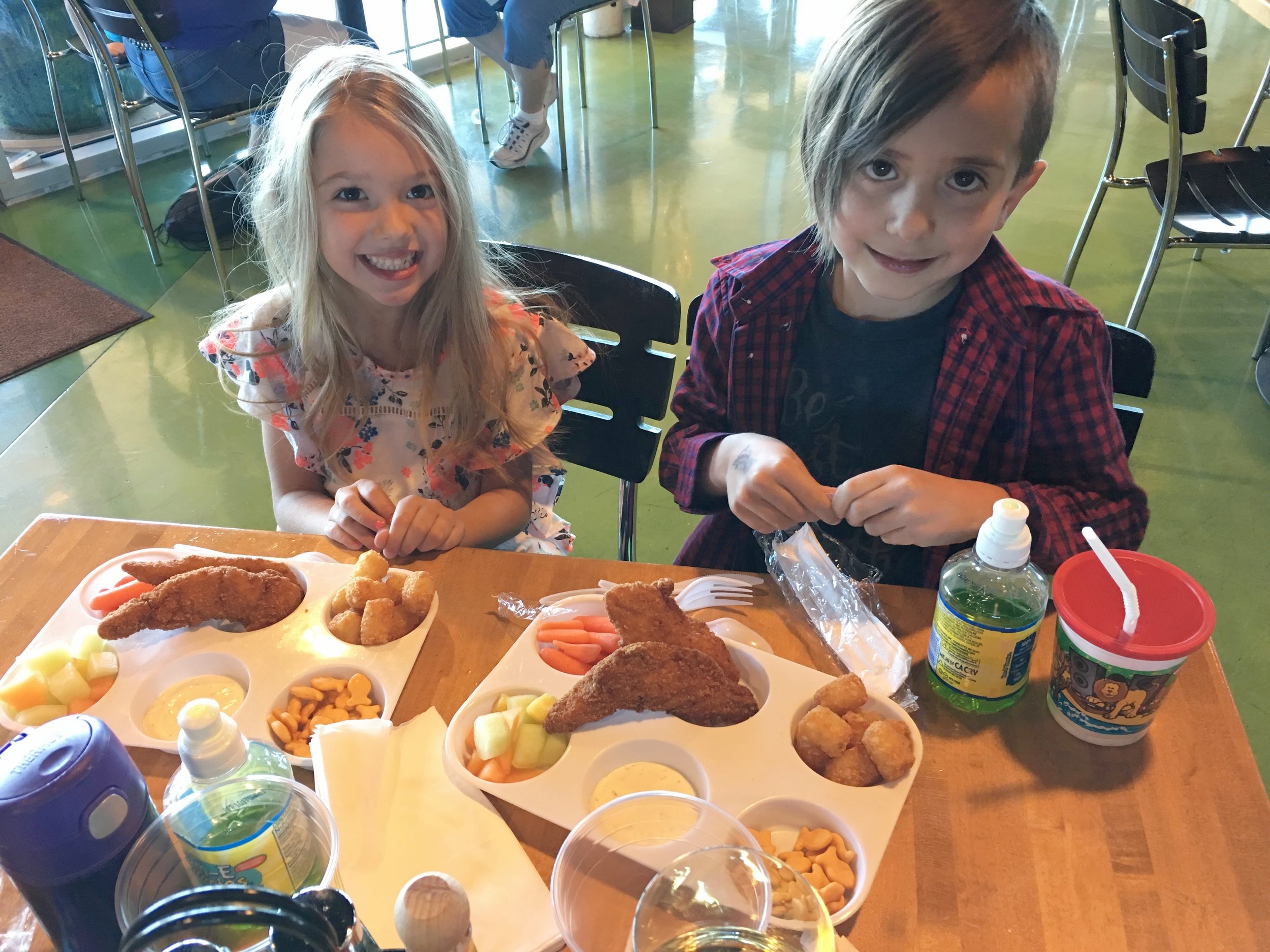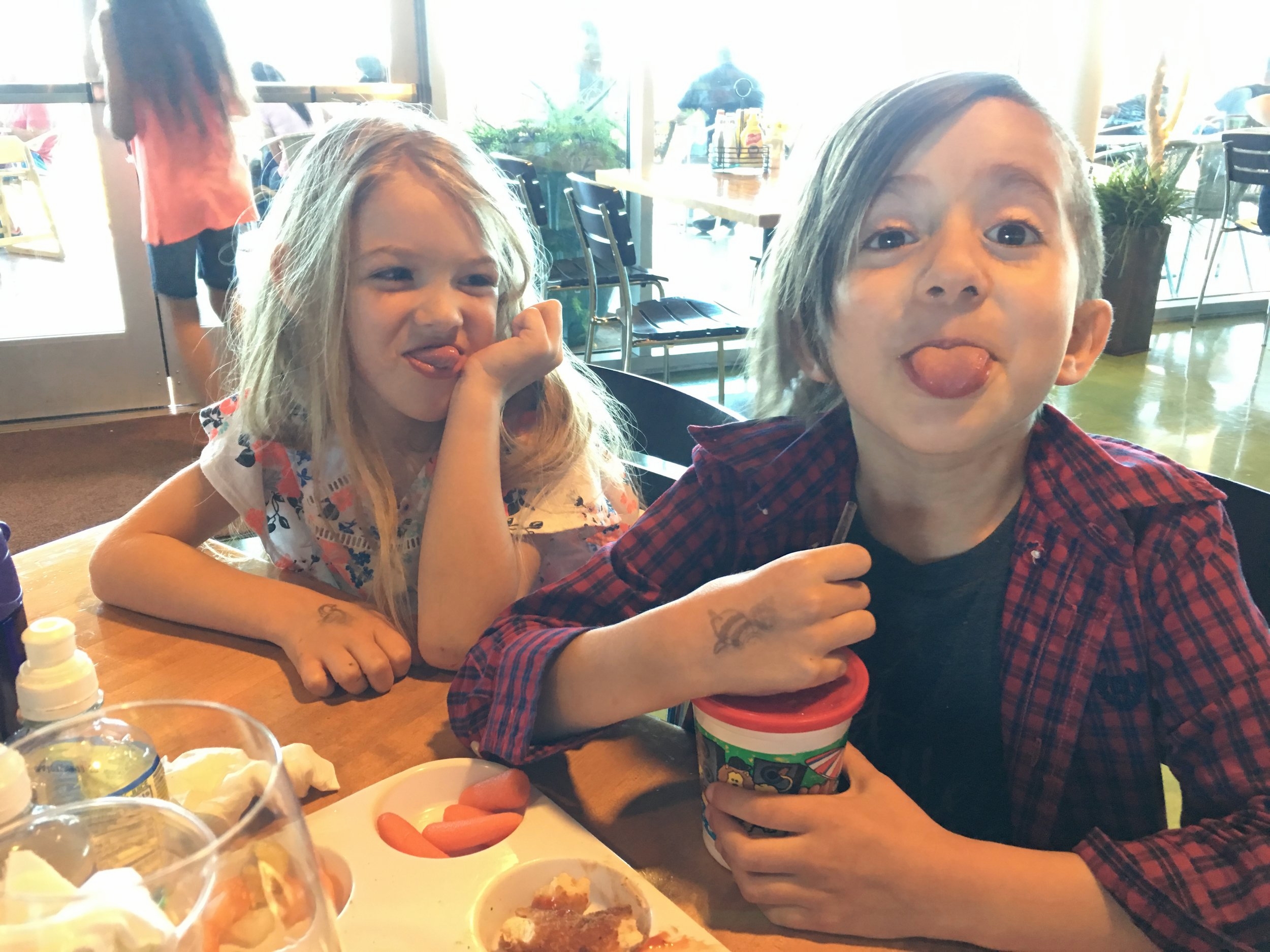 Crack the Geode
Quite literally one of the most special souvenirs from any park we've visited (and it's not a to-be-landfill plastic relic!). Better yet, my son cracked it open which instilled his appreciation for the unfolding beauty that is Mother Nature; this plain concrete-looking rock turned into a glittering, multi-faceted, luminescent crystal orb. This is something I would pay four times the amount if I found it in a crystal store. It's now a prized possession withstanding the fickle child gaze, still holding court on his bedside table. You can still sift for gold, glory be...Old Nevada!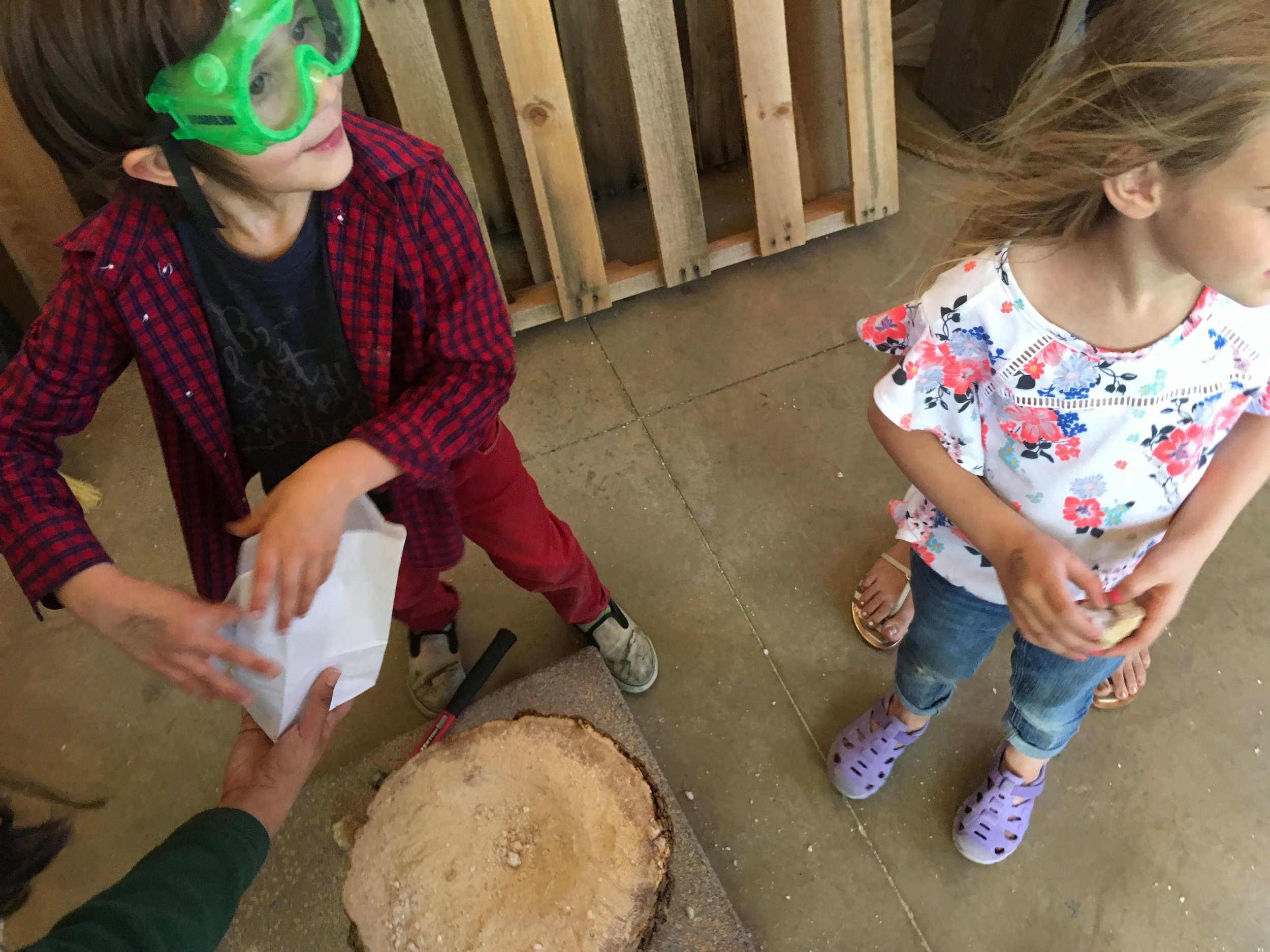 The train! The train!
No kid's park experience is ever quite right without a loop around the premises, and what better than a narrated train taking you through Nevada's mining days of yesteryear.
The Butterfly Exhibit
Ironically, this time we didn't make it to the butterfly exhibit. We spent a record 5-hours at the park and missed one of their most popular exhibits. But that's the epicness that is Springs Preserve, you never fully feel like you've conquered it all…there's always so much more to do next time. First on the list for our next monthly visit…butterflies!
Charge your Car
Truly. Their front-row parking spots host electric vehicle charging stations powered by the solar-powered awning, you can drive your Prius or Tesla and plug right in. TSP is progressively innovative and innovatively progressive, especially for a town well-known for our glutinous consumption; TSP teaches Las Vegans about efficiency with every step through the park. Take a walk through UNLV's DesertSol home in the Botanical Garden, not quite a tiny home but it'll have you decluttering and craving solarized, modern newness in no time.
Parting is such sweet sorrow.
There's always something more...
Like I said, we've been going to TSP for six years and I still don't feel we've nailed each & every moment they have to offer; it's an ever-changing, alive, fun-filled park full of well-curated exhibitions/experiences/entertainment and literally has something for everyone. I still want to bike-ride through their terrain, take advantage of the ICE CREAM FESTIVAL on May 20th (!!!) and explore and take black&white photos in the newly opened BOOMTOWN 1905. I mean, the possibilities are endless. I'd estimate this post covers 15% of what they have to offer.
My passion runs deep for The Springs Preserve but I'm simply riding on the coattails of the trailblazers who turned this desert into our own Mojave DisneyLand.
THINGS TO KNOW:
be prepared to pay for train ride, butterfly exhibit etc; these are all a nominal fee

highly recommend becoming an annual member, very affordable annual entry and you can enjoy discounts around the park and special offers

Dia de los Muertos is one of their busiest times, carve out an afternoon/evening (during Halloween time) to view this once-a-year epic experience
you can stay 2 hours or all day, it's up to you and what's right for your family's rhythm
our baby would take a lonnnnng nap in his stroller while we walked for hours at TSP, their paved pathways are smooth and many resting points can be found
upon this trip I met a wonderful grandmother who treated her visiting out-of-state grandson to TSP, this is a comfortably accessible place for all ages
stay hydrated during the summer, bring water! lots of water!
TODDLER TIME, every Thursday, wonderful way to get active with your Little(s)!
exhibitions are on rotation, always call beforehand to verify their offerings if you're looking for something specific
always stay abreast with their ever-busy calendar!
thanks to our friends at www.letsliveyall.com for joining us on this wonderful day.
all words & photos by Desiree although Butterfly Exhibit photo courtesy Tina Teigen. copyright VEGASMAMAS™ 2017. All rights reserved.
besos.