Minerals + Gong Bath + Solar Eclipse = An Epic Moment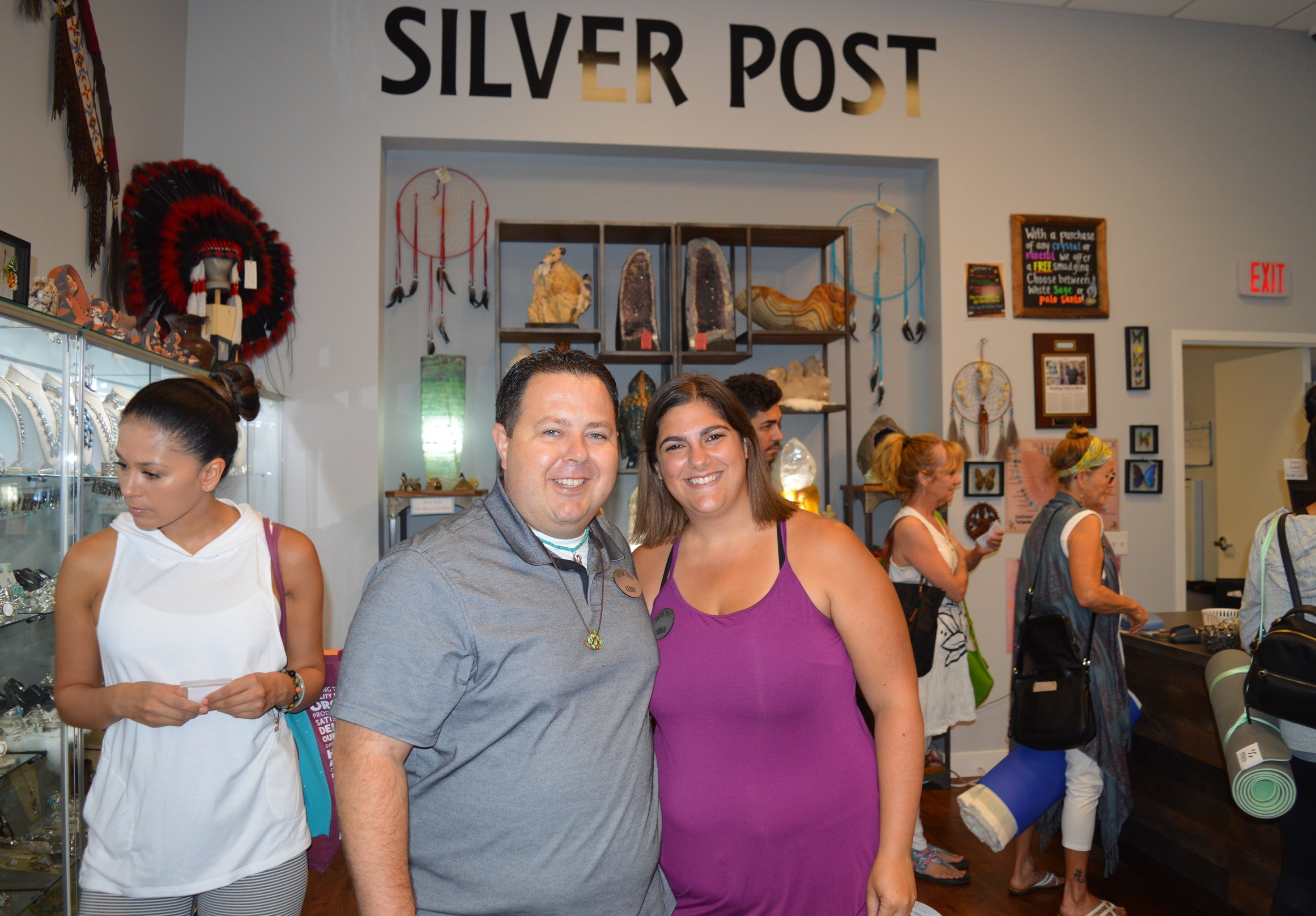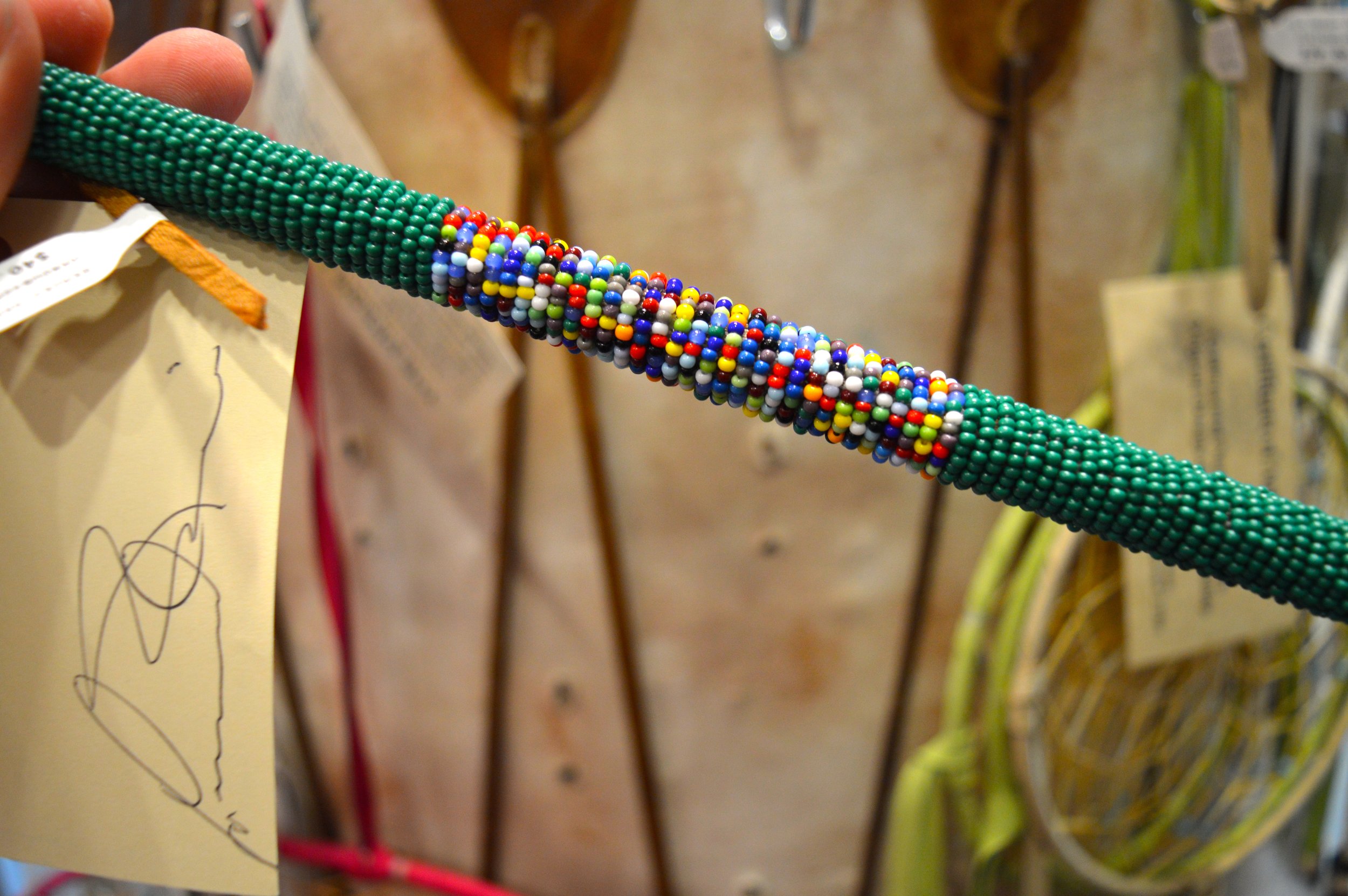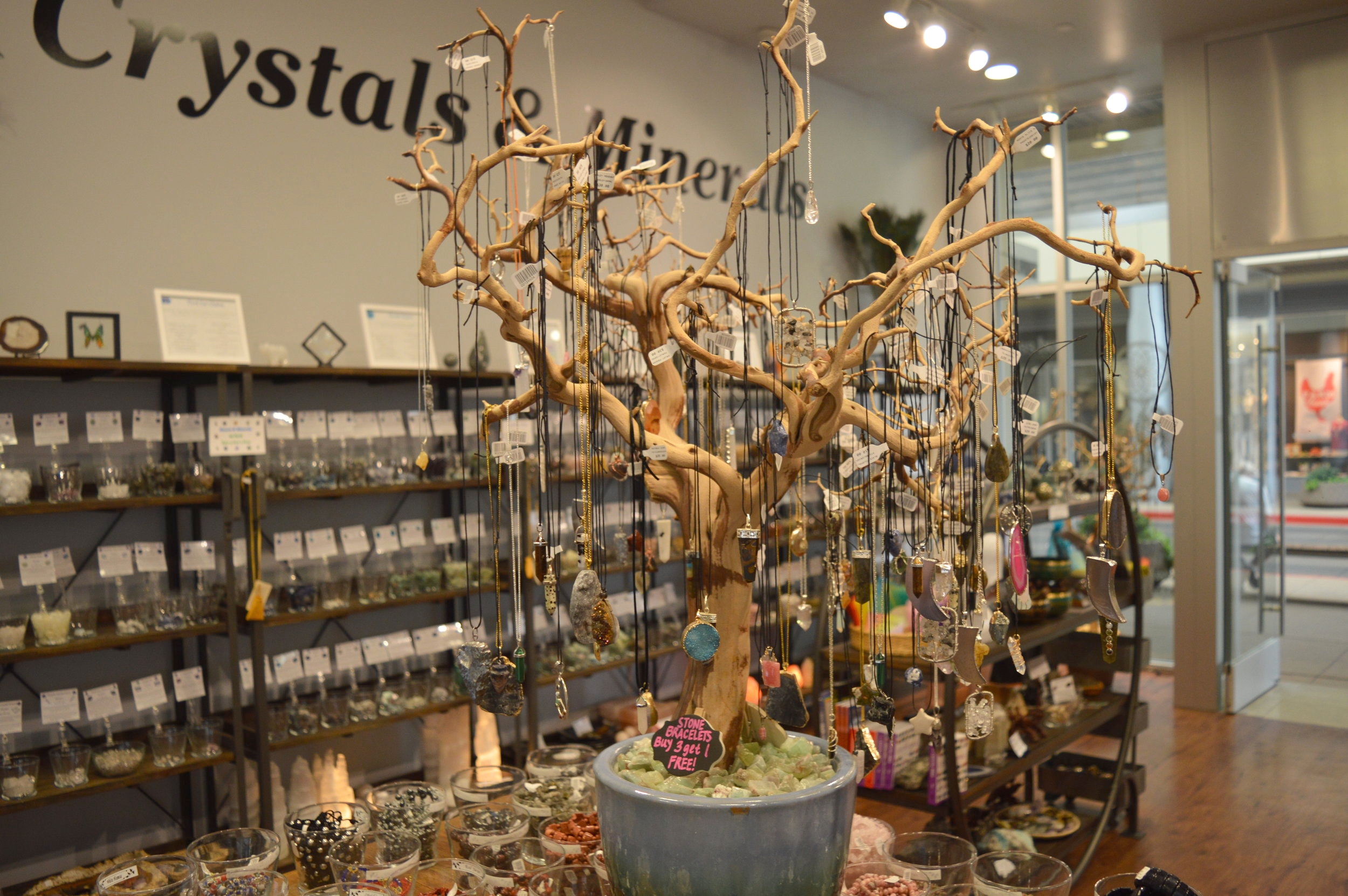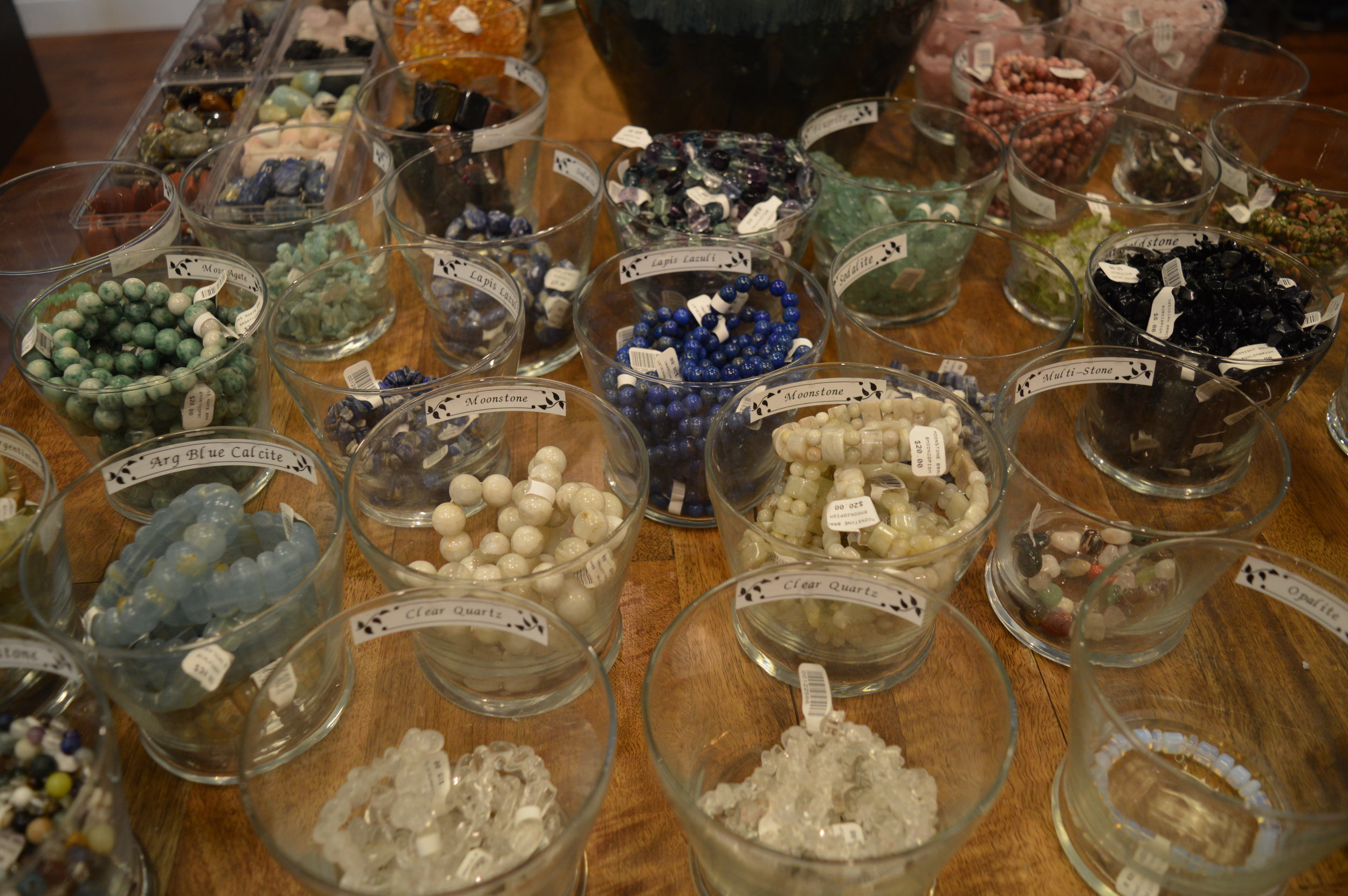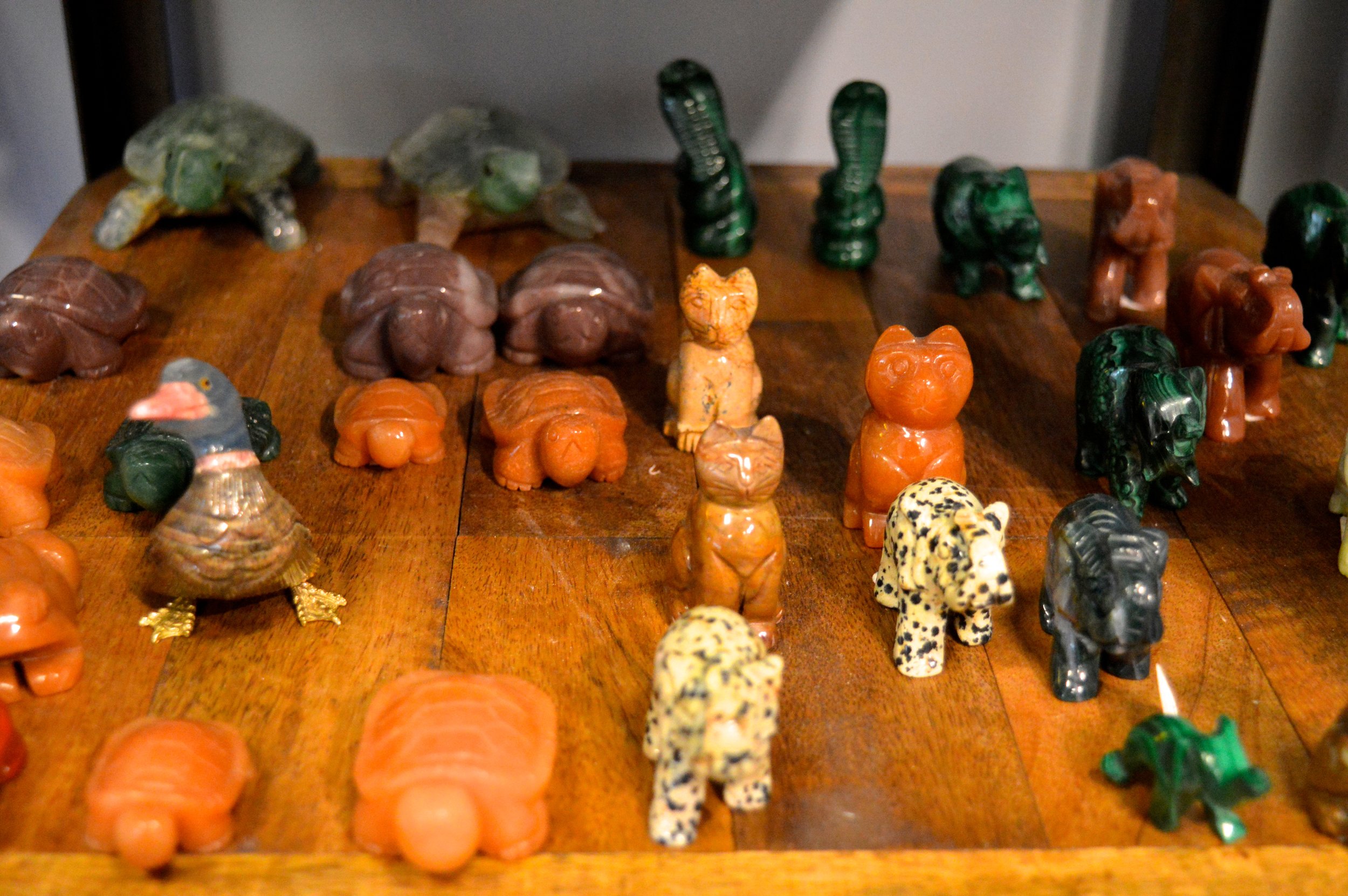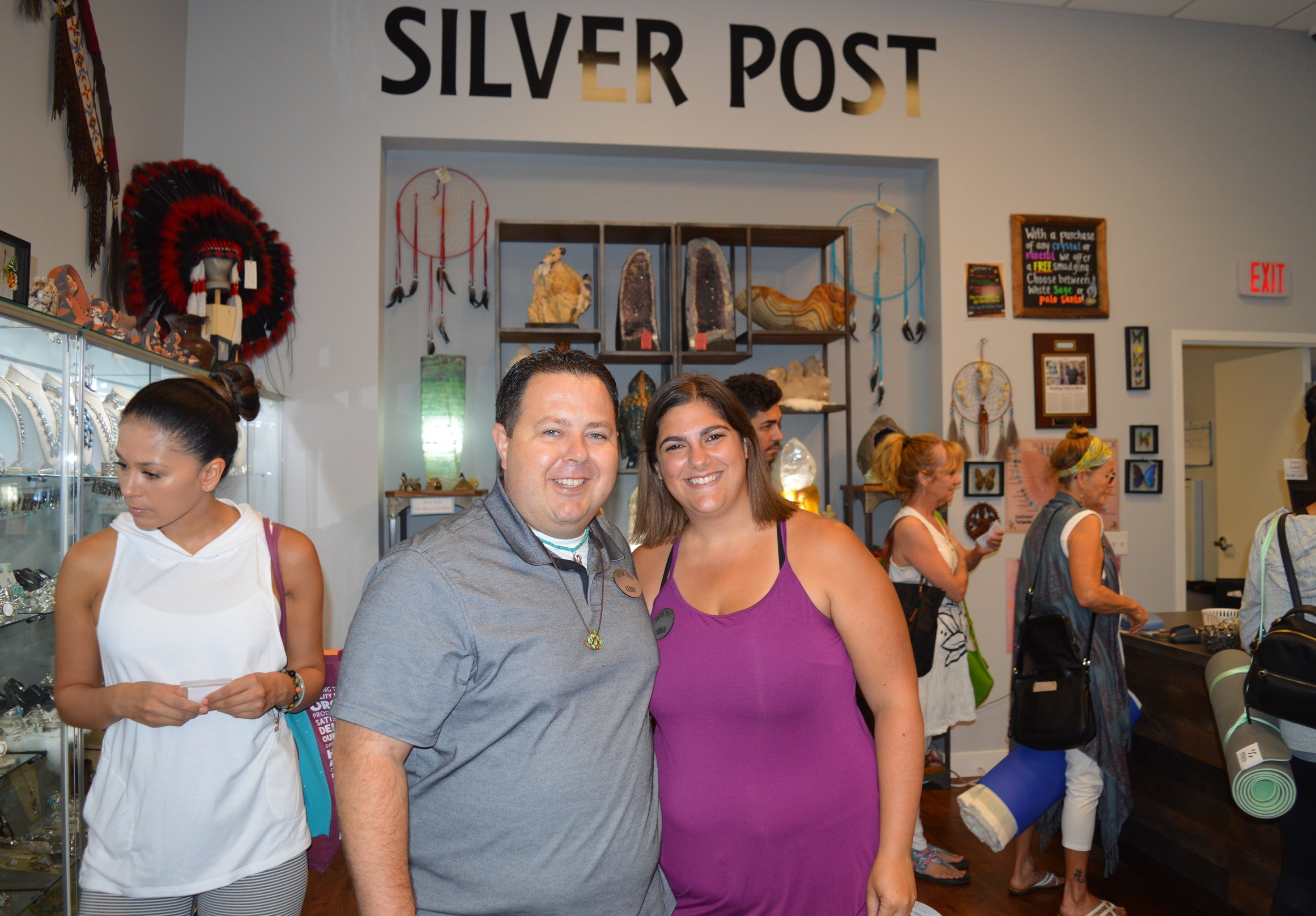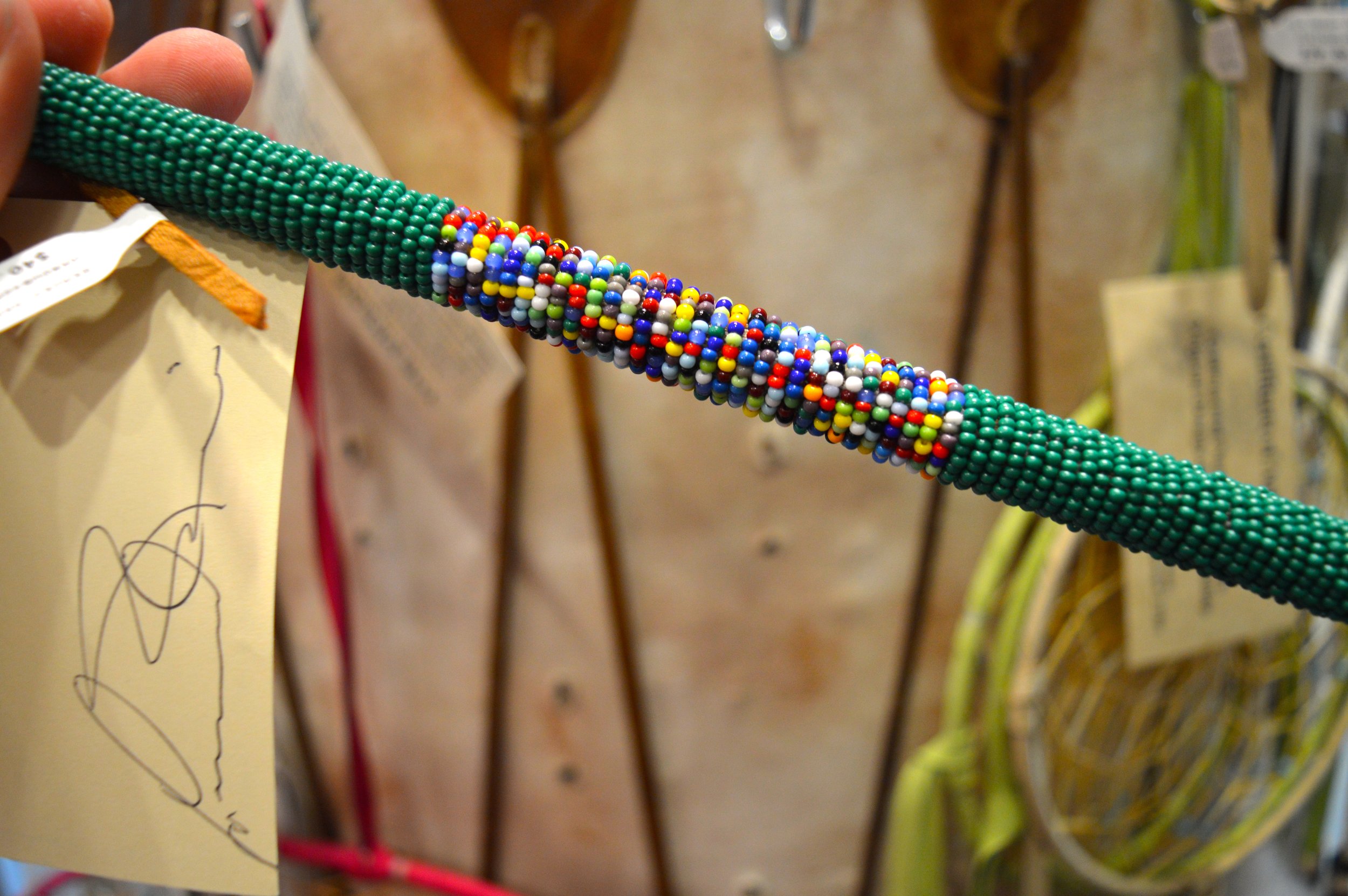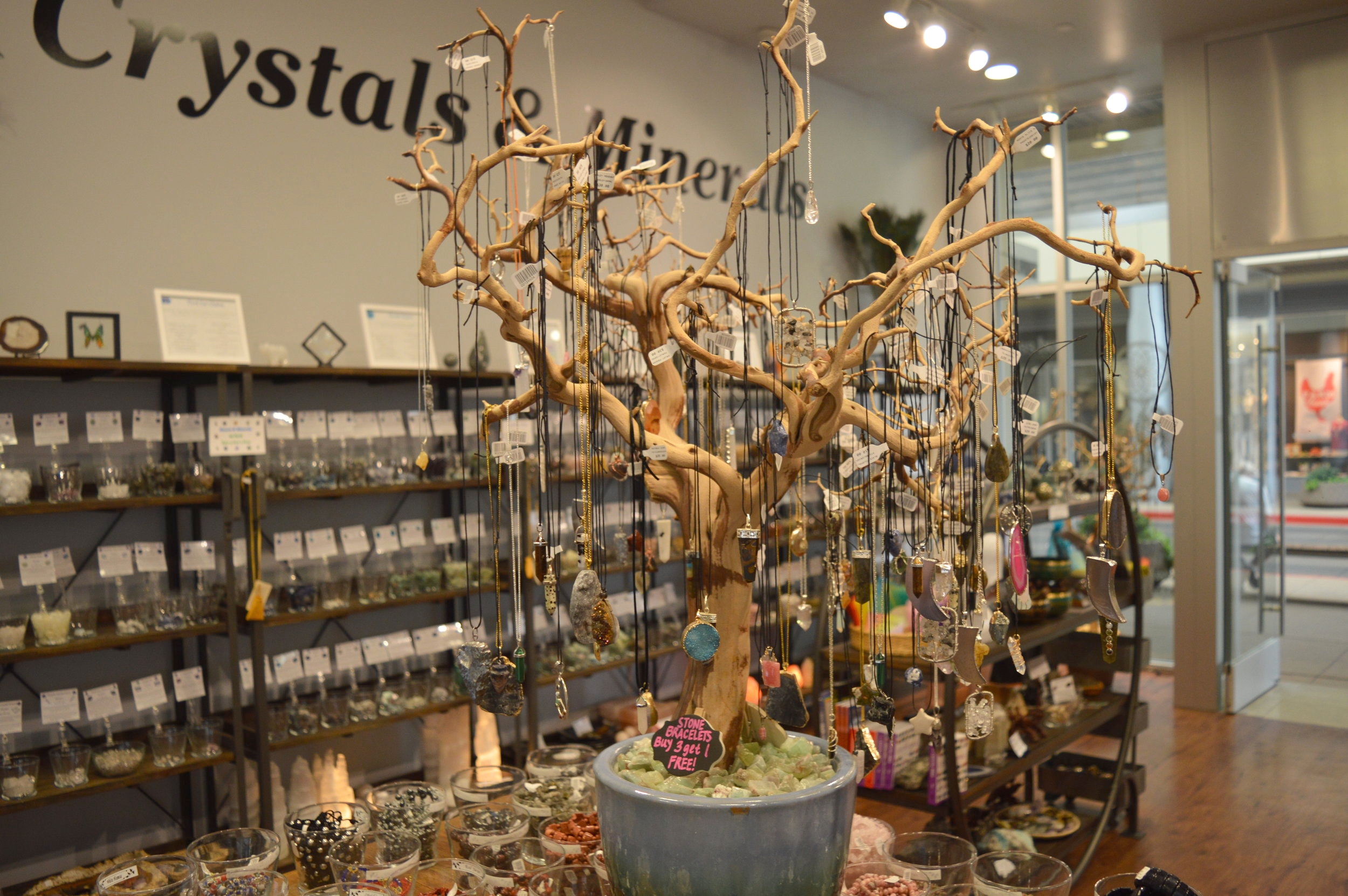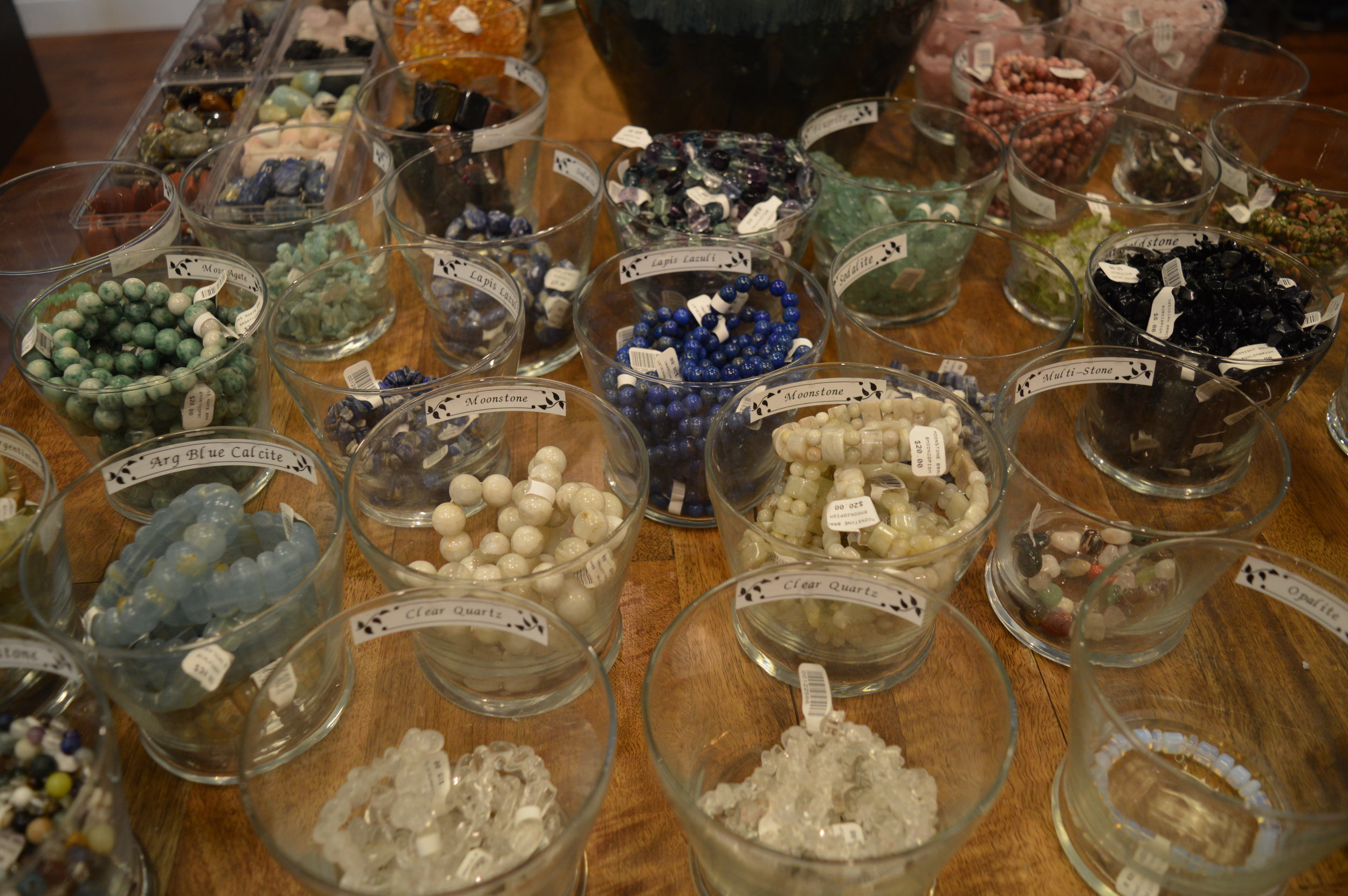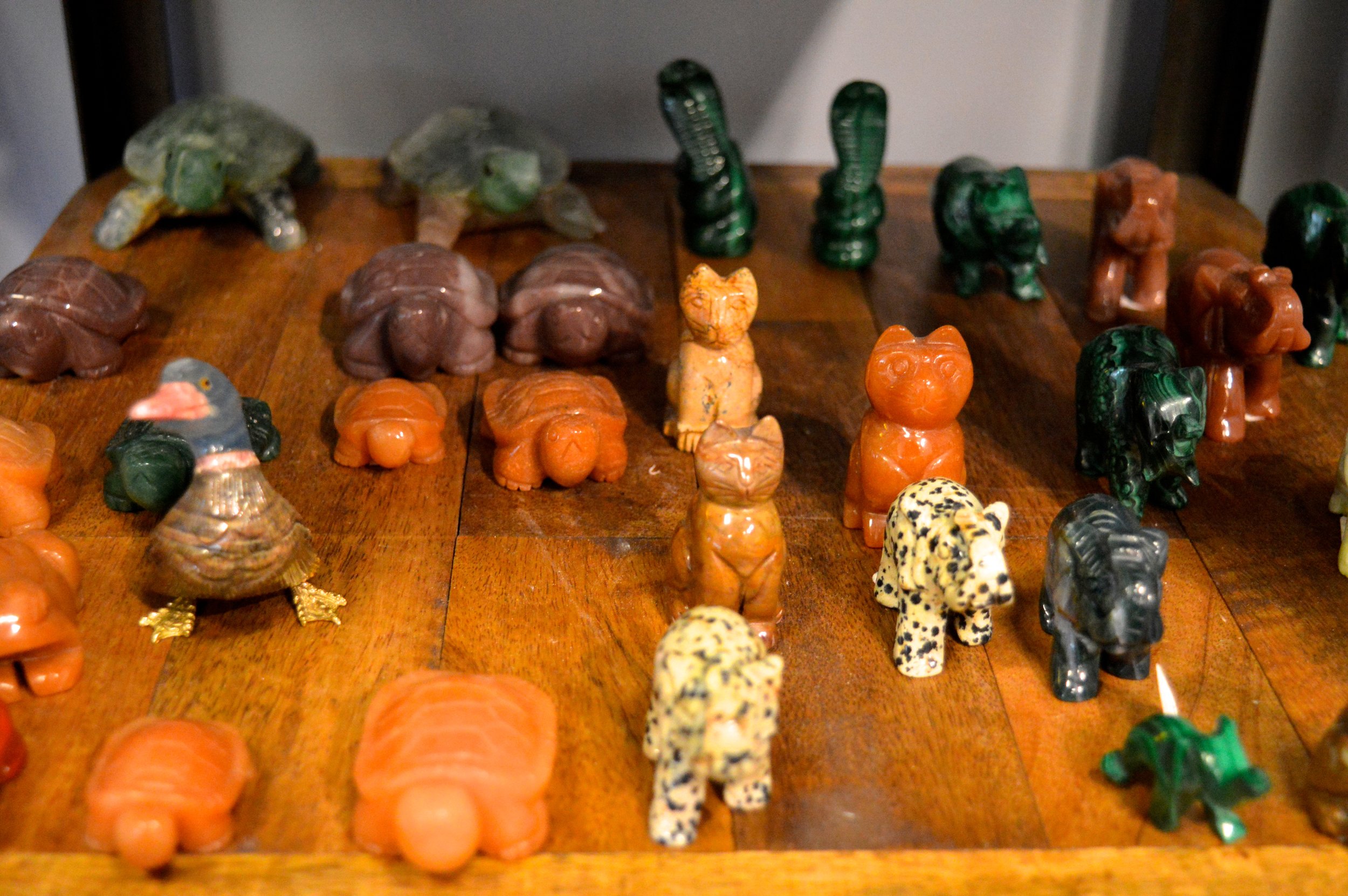 Silver Post USA is a thoughtful & spiritual local shop owned and run by husband and wife team Sarah & Aaron Sidranski; it's full of curiosities from Mother Nature with lots of stones & crystals & formations as well as artisan works from 46 Native American artists in Nevada, Arizona, New Mexico, Washington...and beyond. Aaron is upholding a 76-year family business tradition (and counting!) which began with his grandfather, founder of the world famous El Paso Trading Post in 1945.
Sarah & Aaron's passion has spanned three generations for The Sidranskis; they work with the artisans personally (not through a distributor) and pieces are often signed-by-the-artist with a "Certificate of Authenticity" attached; Aaron even remembers some of Silver Post's current artists from his own boyhood! Although this is no silverspoon fairy tale, when the couple met Aaron had exited his Casino Exec job and was barely able to afford food, lived in the back of his new shop and reinvested every cent he made into his dream-come-reality. Their shop in Downtown Summerlin (next-door to LuLuLemon and another location in Town Square) is filled with so many goodies at eye-level but don't forget to look up, their artifacts, pottery & wares are magnificent.
True works of ART.
Price-points run the gamut; you can buy a $20 dreamcatcher for a child's birthday party, one-of-a-kind handcrafted Native American turquoise jewelry, small $5 crystals for your pocket (or inside your bra like me!) or large-scale pieces fit for a gallery wall. I'm doing my shopping for friends, family & kids' birthday parties alike at Silver Post. Sarah designs & sells her jewelry. Talk to Aaron about minerals, artists, jewelry, etc, he's incredibly knowledgable & intuitive and helps you find what benefits you. A Mineral Whisperer, if you will.
Sarah & Aaron wanted to offer an experience to their community, and so they did...
Enter The Solar Eclipse 2017. A once-in-a-lifetime experience. The moon controls the ocean. High and low tides are palpable marks in any surfer's daily schedule. Human beings are +60% water. The moon and the sun affect us all but the question is, do we honor that or not? I know the night before the solar eclipse my little wolves were up until 10pm, they were charged with elated energy up until the minute they fell asleep, something had come over them and, I swear, I think it was the upcoming eclipse.
On Monday, I attended the Solar Eclipse Gong Bath Meditation under the Farmer's Market white tent in Downtown Summerlin. Sarah & Aaron along with Raise Your Kundalini Yoga & Meditation Center (RYK) came together to host a moment in time for us all; I'm not sure what I loved more, the absolute unity of all patrons (almost 200 in assembly!) or this rare and ever-so fleeting experience our LOCAL businesses gifted us Las Vegans.
Imagine, the multicolored yoga mats laid out resembling a vibrant mandala. People of all ages practiced Kundalini Yoga, Pranayam (breathing) & Meditation led by Cosmin Mahadev Singh of RYK, as Cosmin's mallet began to resonate with the large gong, two other gongs by Cristin Bartles and Corina Bautista came in as they played in unison...vibrating through the open-air space. During the Gong Bath, during the overcast eclipse, during this once-in-a-lifetime moment yogis laid on their mats in dead man's pose, flat-backed and facing the sky as Aaron burned healing white sage and polo santo sacred wood around the yogis…
gongs are said to open, balance & retune your chakras
the eclipse brings the earth, sun & moon into perfect alignment promoting changes and new beginnings for us all…imagine,
this was a recharge of your entire being!
Afterwards the vibe was fruitful, it was a buzz of raw, new, illuminated energy. Oranges were passed around. People were hugging. I felt like I took a spiritual and cosmic bath. It was an epic experience.
Aaron & Sarah offered a free crystal to all Eclipse Meditation participants and over $1000. worth in (free) raffle prizes, RYK Yoga & Meditation offered a free class and specials for first-time students. Two things for sure, I've put RYK on my list of must-try studios and I'm frequenting mom&pop owned Silver Post for gifts from now on.
I'm always talking about unity in the community...
helping one another out, being aware of each other with respect and love… "building our cyber village because it takes a village" and, you know what? Seeing the mamas with babies on their chests as they practiced under the tent was totally inspiring for me. This was a common cause of GOOD for all generations. That theme ran through this event like a cold river's run-off on a hot Red Rock day. It was awe-inspiring. Long may we collaborate, enjoy, embrace and balance!
Huge gratitude to Aaron & Sarah Sidranski of Silver Post USA, everyone at RYK Yoga & Meditation and, finally, to Staci Maione, the "connector" as Malcolm Gladwell would bill her, who brought her two favorite establishments together. I heard they'll be hosting more events. And I hope they do soon.
Thanks to my girls Jennifer & Biljana for enjoying with me and special thanks to Jennifer, I love my Tiger's Eye, you know me well. And thank you to Sarah & Aaron for inviting me to this sacred event, and for the cleansed chakra bracelet that I'm wearing now.
VEGASMAMA: Sarah Sidranski
Sarah, tell us a bit about your story: "Aaron and I met on JDate.com in November, 2010. We were engaged June, 2011 and married June, 2012. We found out a month before our first anniversary that we were going to have Alana and she was born in January, 2014. At the time I was working for a doctor and in November of 2012, I decided to join Aaron and never looked back. I love the crystals and minerals. I love what we do and what we stand for." -Sarah Sidranski Thank you, VEGASMAMA, you and your family are a small business inspiration!
VEGASMAMAS asked Sarah all about her favorite Las Vegas destinations...and beyond. We call this feature The VEGASMAMAS 11:11, eleven questions about life with your child and eleven questions just about you. enjoy!
KIDCENTRIC (all about your child)
Your favorite…

1. outdoor park?

Alana loves to go to South Tower Park

2. indoor play/jump/etc house?
3. when-it's-hot-outside kids' destination?

Regal Downtown Summerlin Movie Theater

4. when-it's-freezing-outside kids' destination?

Red Rock Lanes Bowling at Red Rock Casino

5. restaurant w kids?

the quesadilla with rice & beans at Sharky's is Alana's favorite (VEGASMAMAS: a woodfire grill next to Whole Foods on Charleston, looks tasty, fast and very kid-friendly)

6. kids' clothing shop and/or shopping destination?

Target, it's the one-stop shop for everything kiddos need!

7. grocery store?

Albertson's, because they have new "driving" carts to ride in

8. season in Vegas w kids and why?

Spring / Fall, we love the go The Calico Basin Boardwalk and have picnics (VEGASMAMAS: we've never done this and looks so special and fun for the entire family!)

9. VEGAS Strip or Downtown destination?

Midway at Circus Circus, Alana loves playing the arcade and carnival games

10. your must-see Vegas destination for your visiting loved ones?

The Mermaids of Silverton Casino, Alana loves to visit them in the big fish tank right outside of Bass Pro Shop. It's free, too, and a world-renowned destination; the mermaids swim Thursday - Sunday.

11. "I've been meaning to take my family here..." Vegas destination?

 
VEGASMAMAS (all about you, MAMA!)
Your favorite…
1. charity?
The Unforgettables Foundation's annual Southern Nevada Teddy Bear Tea
2. stay-cation?
Green Valley Ranch, it's where Aaron and I were married!
3. restaurant?
Swish, Japanese Hot Pot is my favorite
4. exercise spot?
I love to hike at Red Rock Canyon
5. coffee drink & where? iced white chocolate mocha from Starbuck's
refreshing treat & where? frozen yogurt is my favorite dessert, doesn't matter from where!
6. date spot?
T-Bones is our go-to place in Red Rock Casino
7. spa or mani/pedi spot?
The SPA Red Rock and MIKI Nail Bar
8. out with your fellow VEGASMAMAS spot?
a good happy hour! Dom DeMarco's, Libre Cantina; there are so many choices in Summerlin
9. chill-out spot?
The pool...anywhere there is water
10. movie/song about (or) show in Vegas?
Cirque du Soleil's "O" at The Bellagio
11. your must-see Vegas destination for your adult-only visitors?
There are really only three places I try and enjoy without my daughter: T Bones, MIKI Nail Bar and Red Rock Spa!